On or about September 10, 1999, I received word from my Aunt who lives in Eunice, Louisiana, that Zydeco Musician Beau Jocque (Andrus Espree) had died. I could hardly believe what I was hearing. Living in San Antonio, TX, Zydeco is not a very popular thing in the city. I feel it's the city's loss and misfortune. I was born in Eunice, Louisiana in the Spring of 1969. My father was in the United States Air Force and as a result, we moved away when I was very young. I did however, have the opportunity to visit my home state on several occassions through out the course of my growing up. After becoming a young adult I would travel from San Antonio to Eunice alone about twice a month mainly for the purpose of attending Zydeco dances. The music would move me. I remember the first time I saw Beau Jocque. I was amazed at his size and the rough roaring sound that came from him. His music was up-beat and fast paced, just the way I liked it. I remember going to "Richards" club in Lawtell, Louisiana to see and hear him play. From the moment I pulled into the parking lot and stepped out of my vehicle, I could hear the music. I couldn't wait to get inside. Once inside, I couldn't wait to hit the dance floor. Once on the dance floor I didn't want to sit down. The club was jumping you could feel the vibrations under our feet. Tunes like Beau Jocque Boogie, Give Em' Cornbread, The Beau Jocque Shuffle and Pop That Coochie just to name a few were the ones I always waited to hear. No one did quite like Beau. He will be missed by everyone who enjoyed dancing to his music. I hope that this page becomes a real tribute to this great musician.


March 13, 2000__ Well I just returned from a trip home where I enjoyed indulging in the festivities of Mardi Gras. Unfortunately, there was someone missing...BEAU JOCQUE. I really miss Ya Beau, I'm sure your giving em cornbread up in heaven.

July 23, 2000__Just returned from another trip to the beautiful town of Eunice Louisiana. I really enjoyed my stay, thanks to my wonderful family. I had a chance to visit Beau's grave. It sure was peaceful, and felt really great. I also rode by the house in Kinder, Louisiana. He had a beautiful house. Still missing you Beau.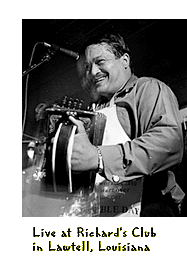 Sincerely,
Darlene M. Balque-Morales


Ruben's Beau Jocque Page




If you would like to know more about me, Click here to go to my home page. If you would like to link to this page, please feel free to do so.
Please Support The Fight Against Breast Cancer
I must admit these are not my pictures. If it is a violation in anyway, just email me and it will be removed promptly.___Darlene
E-MAIL ME